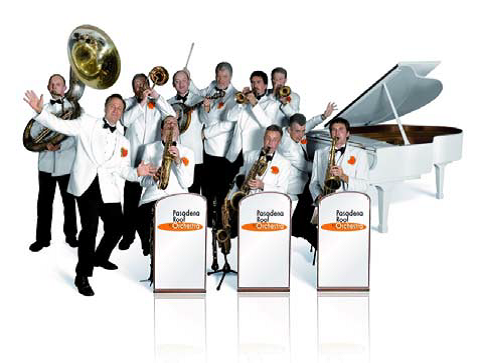 For over forty years the Pasadena Roof Orchestra, based in the UK, has delighted audiences all over the world with its mix of swing and hot dance music.

The Pasadena Roof Orchestra show includes famous tunes such as 'Puttin on the Ritz' 'Sweet Georgia Brown' 'The Lullaby of Broadway'as well as hot numbers from the twenties such as Duke Ellingtons' 'Black andTan Fantasy' or 'Truckin.' English Dance Bands are also included, with the beautiful numbers that were sung by Al Bowlly, and arranged to perfection by Ray Noble.

The show is far from a pure history lesson as audiences can testify; there is a liberal dose of 'British humour' in its presentation.

When it comes to authentic swing music the orchestra has no equal. The reputation of the orchestra is as legendary in its own right, as the bands from the 1920's and 1930's that inspired it.

The orchestra performs year-round, with a line-up of eleven excellent jazz musicians who have perfected their craft and studied jazz at thetop conservatories. Many years of working together and top class arrangements, result in the ensemble sound for which the orchestra is renowned.